CURRENT UPDATES
OUTLOOKS AND MODELS
FROM 2009 TO 2017- OVER 50+ DIRECT TORNADIC INTERCEPTS YIELDING DATA SUPPORTING PROPERTIES PRESENT IN TORNADOES.
2018 SCIENTIFIC RESEARCH- AS WE MOVE TOWARDS A "TESTING" MODEL FOR COLLECTED DATA, WE WILL MAINTAIN A "SELECT" PRESENCE NEXT SEASON.
Our programs focus on severe weather events that occur in the Northern Hemisphere. SWS observes and searches out severe weather behavior in all categories. Analysis solution strategies focus on this priority for results.
SMS-TEXT - EARLY WARNING ALERTS - As we continue tornado patterns, research, and observations of major severe events that may occur. SWS can notify you of a possible severe weather event in your area by live alerts on this site and other SWS solutions..
SEVERE STORM PREDICTION
THE HURRICANE WEATHER SEASON WILL START JUNE 1ST.. ENDING NOV 30TH. SEVERE WEATHER WILL CONTINUE OBSERVING A FALL WINTER PATTERN.
STAY TUNED TO THIS SITE FOR REALTIME "LIVE" OVERVIEWS AND RESEARCH DATA SWS HAS GATHERED FROM THESE STORMS.
BOOKMARK THIS WEBSITE.
* AS THE SWS TEAM REALIZES THE SUCCESS OF WHAT WE ACCOMPLISHED IN 2013 - 2017. THE REAL WORK CONTINUES.
* THE TEAM FROM 2009 TO 2017 COMPLETED MULTIPLE TORNADIC STORM INTERCEPTS. WE CONTINUE THE PROCESS OF A "BENCH TEST" AS OUR NEXT PHASE.
BE SURE TO TUNE IN ON OUR TWITTER, FACEBOOK PAGES FOR UPDATES AND OTHER NOTABLES BY THE SWS TEAM.
OUR UPDATES... LATEST NEWS.
SPRING 2018 | EARLY WARNINGS | SEVERE WX OBSERVATIONS | RESEARCH
WEATHER BRIEFING - WINTER PATTERN CONTINUES. SWS CREW COMPLETES 2017 WITH TORNADOES MID CO/WY/NE MID JUNE, EXTREME CLOSE RANGE TORNADOES IN IOWA, "HIGH PLAINS" SEVERE WX & TORNADOES OCT 1-2. SEE SEVERE WEATHER ALERTS PAGE, LIVE UPDATES, SPC AND CURRENT FORCASTING.
SEVERE WX TRENDS "MODERATE" - NORTHEAST GETS A DOSE OF WINTER CONDITIONS. DRY CONDITIONS PERSIST IN SOUTHWEST. SPRING PATTERN IS TRENDING FOR SEVERE WEATHER TO RAMP UP.
---
---
CURRENT LIVE RADAR | SPC WARNINGS
---
Live- SEVERE WEATHER ALERT | Updated "LIVE MODEL" Alerts and more
SWS SnR DOG IS 10 YRS OLD!!

Facebook-

SEE TERRA
---
TORNADO SEASON 2018S- The new updates. Emergency Response Plans, Research Projects for the SevereWX/Tornado Season will continue into 2018.

As any severe wx occurs, Always be ready. Prep Tips Checklist

The time is now to line up preparations for any arriving severe weather.
FOR 2017, SWS CREWS WITNESSED MULTIPLE STRONG RATED EF-3 TO EF-4 TORNADOES IN APRIL. WE CONTINUE THE SEASON WITH MULTIPLE TORNADIC STORM INTERCEPTS IN MAY, JUNE AND INTO OCTOBER. VIDEO COMPILATION OF SEASON BY YEAR END.
---
CLICK ON THE IMAGE TO RIGHT TO MONITOR THE SPC'S LATEST SEVERE WEATHER OUTLOOK.

SWS WAS "ON THE SCENE" FOR MULTIPLE SEVERE WEATHER EVENTS WITH TEAM PARTICIPANTS INTO THE PAST "10" SEASONS. SEE SWS NEWS UPDATES.
---
ANY PROCEEDS GO DIRECTLY INTO SCIENTIFIC RESEARCH.. EXTREME TORNADOES - A DVD OF LARGE TORNADOES.. UP CLOSE- MORE
---
| | | |
| --- | --- | --- |
| | | A RARE TORNADO INTERCEPT BY SWS- John H documents an obliteration of ranch buildings at close range. AS SEEN on Discovery Channel and the Weather Channel - Details |
SEVERE WEATHER CELL PHONE ALERTS-

In

the event of the arrival of a severe weather threat in your area, Severe Warning Systems can alert you in advance of any hazardous severe weather

-

REQUEST INFO HERE
---
ALERTS AND CURRENT WARNINGS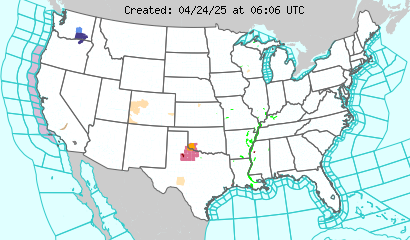 ---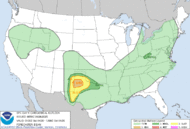 ---
---
LIVE NATIONAL TEMPERATURES
---
---
SEVERE STORM PREDICTION
2018 SPRING PATTERN HAS BEGUN. AS TRENDS GO TOWARDS THE LONGER DAYS, STORMS ADVANCE FROM WEST, MIX WITH GULF OF MEXICO WARM FRONTS, SEVERE WEATHER WILL BE POSSIBLE.
STAY TUNED TO THIS SITE FOR REALTIME "LIVE" OVERVIEWS AND RESEARCH DATA SWS HAS GATHERED FROM THESE STORMS.
BOOKMARK THIS WEBSITE.